---
2021 Ellerslie Alumni Summit
Take your training deeper and connect with other Ellerslie Alumni! One powerful week of training at the Ellerslie Campus with an optional bonus fellowship week.
---
---
Are you ready for the times in which we live?
Our world is growing darker by the day. As Christians, we must decide how we will respond. The 2021 Ellerslie Alumni Summit provides a wonderful opportunity to become spiritually ready for the times in which we live. During this powerful week, we'll explore what it means to gain a true spiritual reset in light of our rapidly changing world, and become truly ready to shine the light of the Gospel in the midst of such great darkness. (There's even an optional extension designed for you to enjoy refreshing fellowship with your Ellerslie friends — learn more below!)

$995 PAY WHAT YOU CAN PAY!
The regular price for the weeklong summit would normally be $995 (plus an additional $150 if you stay for the optional extension week). But for the second year in a row, we have decided to offer this training summit on a donation-basis.* When you register for the Ellerslie Alumni Summit, you will have the opportunity to input whatever amount you are able to afford.
*Please note: if you are able to contribute the full price of $995 (or more) this will greatly help the ministry of Ellerslie and enable us to continue offering this Alumni Summit on a donation-basis so more alumni can participate. That said, money is not our chief concern in offering this Alumni Summit — rather, it is gathering together to seek Jesus! So no matter your situation, we encourage you to register for this powerful training experience and choose the donation amount that works for you!
---
Registraton for this event has closed.
Stay tuned for our 2022 Alumni Summit information coming soon!
---
Alumni Summit Topics Include:
These sessions and many more!
Speakers will include Eric Ludy, Leslie Ludy, Nathan Johnson, Philip H., Dan and Sandi McConnaughey, and other special guests.
---
Alumni Testimonies:
"Each session was so applicable and timely and exactly what I needed to hear."
— Elizabeth W.

"The Alumni Summit week was everything I needed and more. It confirmed the fact of suffering well no matter the cost, with applicable tools on pouring life and truth into the lives of others…"
— Chelsey H.
---
---
Ellerslie Alumni Summit Daily Schedule:
*Schedule subject to change
6:45 — Breakfast
7:30 — Prayer and Worship
8:15 — Daily Thunder
8:45 — Break
9:00 — Class One
10:00 — Workshop
10:30 — Break
10:45 — Class Two
11:45 — Workshop
12:15 — Break for Lunch
12:30 — Lunch
1:00 — Optional "Selah" Study / Break
4:00 — Breakout Tracks / Bonus Classes
5:30 — Dinner
7:00 — Evening Activity / Class
Special note about the afternoons:
We are purposefully placing the key training in the morning, allowing you to use the afternoons for fellowship, mountain adventures, or bonus sessions. We have optional selah studies available (a self-guided study to help you rest, refocus, and refresh your life in Jesus) and we encourage you to take advantage of our breakout tracks (bonus classes) on practical Christian living taught each afternoon by Nathan Johnson, Dan and Sandi McConnaughey, and Philip H..
---
Extend Your Stay for Additional Fellowship
Summer: July 25 – 29, 2021
Fall: October 17 – 21, 2021
Stay up to 5 extra days on the Ellerslie Campus!
(Sunday — Thursday)
Our alumni have often told us how much they love being on the Ellerslie Campus, get away from all the distractions, and focus on Jesus Christ. Consider extending your stay for the Ellerslie Alumni Summit and enjoy additional time to …
Participate in Daily Thunder (daily teaching, worship, and prayer) with fellow believers
Fellowship with other alumni
Experience an adventure in the Rocky Mountains
Spend time with the Ellerslie staff at bonus fireside chats and sessions to cultivate your spiritual life
Have time alone or join a group of alumni to study, worship, and delight in Jesus
There isn't a formal teaching schedule during the extension, just plenty of time for you to enjoy Jesus and each other. While we will have optional activities and some teaching sessions available, how you spend the time is really up to you!
---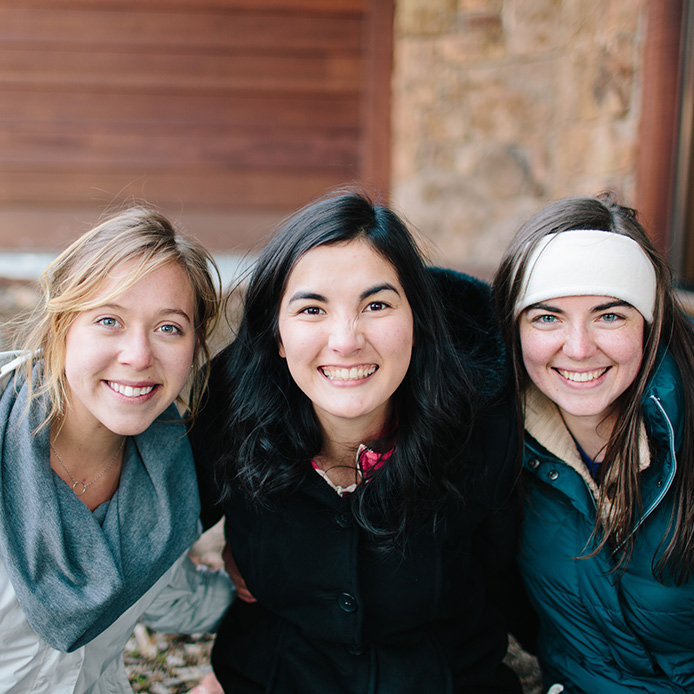 ---
Have Questions?
read our FAQ
Are Bravehearted Discipleship Training alumni included in this training opportunity?
Yes! The Ellerslie Alumni Summit is for all Ellerslie and Bravehearted alumni. If you have attended one of our Ellerslie or Bravehearted programs of any length (in person or online) you are welcome to join us for the Alumni Summit!
---
What if I'm not an Ellerslie alumni? Is there a way for me to participate?
We are only offering the summit to our Ellerslie and Bravehearted alumni. But if you'd like to attend we encourage you to check out our 1-week and 5-week programs here. Once you are registered for an upcoming Ellerslie program, you will be able to register for the Ellerslie Alumni Summit.
---
What's the total cost of this program?
The Ellerslie Alumni Summit would typically cost $995, but because so many are facing financial uncertainty, it is being offered on a donation-basis only. If you are able to donate the full retail amount (or higher) this will be a tremendous blessing to us and many others. But if not, we encourage you to register and pay what you are able! We do not want finances to stand in the way of your ability to participate! (Please note: tax deducible donation receipts can only be provided for donation amounts higher than $995.)
---
Is the Ellerslie Alumni Summit being offered in place of the Ellerslie Advanced Program?
In light of our rapidly changing world, we have decided to offer our Ellerslie Alumni Summit twice per year to our alumni instead of our Advanced Program. Because so many of our alumni have been impacted practically by recent global events, we believe that this short, powerful training will enable more of our alumni to participate, and equip you to impact the world in such a time as this. We pray you'll be blessed!
---
Is the content of the Alumni Summit going to be different than the content that was in the Special Alumni Online Training?
Yes! If you joined us for the Special Online Training (in April 2020) this will be a great foundation to take into the Ellerslie Alumni Summit. However, the Ellerslie Alumni Summit will go much deeper into some of the topics covered in the Online Training and will also offer plenty of fresh new content to equip you in spiritual longevity, impacting others, and victorious Christian living. Whether you joined us for the Special Online Training in April or not, we believe you'll be tremendously blessed and deeply impacted by the depth of in-person discipleship that will happen during the week-long Ellerslie Alumni Summit.
---
Is it possible to attend just the optional fellowship extension?
At this time, the fellowship week is available only to those who attend the Ellerslie Alumni Summit.
---
When will information about the breakout sessions be available? When can I sign up for a breakout session?
Details for the optional afternoon breakout tracks/sessions will be emailed to all students about two weeks before the Alumni Summit, and you will be given the opportunity to sign up for the bonus tracks of your choice.
---
Will there be any homework?
While you are welcome to take your studies deeper and use your time here at Ellerslie intentionally, there will not be any required homework. Additional "take it deeper" resources may be supplied for those who are interested.
---
I have dietary restrictions, is there a gluten-free or dairy-free option?
Our kitchen is happy to provide gluten-free or dairy-free meal options upon request with every meal. Please email [email protected] and notify us of your request.
---
Is there a schedule for the optional fellowship extension?
No, the fellowship extension will not have a formal teaching schedule, but activities and sessions will be available at set times for you to jump in and participate if you would like.
---
What is Daily Thunder?
Great question, Daily Thunder is a daily teaching series that we host every day at our Ellerslie Campus and is later turned into a podcast for our listeners. You'll get the opportunity to participate in our live studio audience during the summit. Tune in here.
---
Is the Ellerslie Alumni Summit Fellowship Extension being offered in place of the Ellerslie Alumni Conference?
Yes. Instead of our twice-yearly alumni conference, we hope you'll take advantage of our Ellerslie Alumni Summit plus the optional fellowship extension to get the best of both worlds — powerful and timely training combined with edifying and fun fellowship with other Ellerslie grads! We believe the Alumni Summit and Fellowship Extension will be even more rich and edifying than our former alumni conferences!
---
We're excited to have you join us!